As a man I understand how nice it is be close to a woman. Often we see people missing many teeth who have shied away from having intimate relationships with people because they are missing teeth or feel shy in public because of the appearance of their mouth. Many do judge a person based on their looks or personal hygiene. It is true that people with a straight, full set of teeth do tend to get that dream job, dream spouse or have the lifestyle of envy. The only thing I can see that connects all these is that people who go after what they really want in life is
confidence
. Confidence doesn't come overnight, but it can be helped with some teeth, a good haircut and some new clothes or shoes.
The other thing that holds people back is fear. Fear of pain and suffering, fear of rejection or fear of cost.
My team and I want to see people have it all! Only you can define success for yourself.
We can help you stay healthy and look better. So for people with many missing teeth or decayed or damaged teeth, there may be a cost effective solution for you. Dentures or overdentures with implant attachments for security.
A two-implant overdenture for the lower jaw is a simple and effective solution. Many patients seeking a relatively easy and complete solution of failing teeth liked this option. You can get your new teeth (denture) almost immediately when the damaged teeth are removed.  Implants are placed on the bottom to later secure the lower denture. The lower denture is later fitted or relined over the implants, to provide increased retention, stability and comfort.
A Closer Look at the Implant Overdenture
The lower jaw overdenture fits securely onto the two dental implants and is removable by the individual for cleaning purposes and may or may not be left out at night.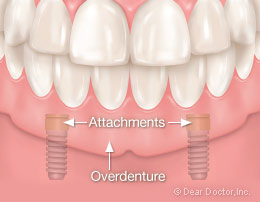 Illustration showing an example of two implants for attachment and stabilization of the mandibular denture.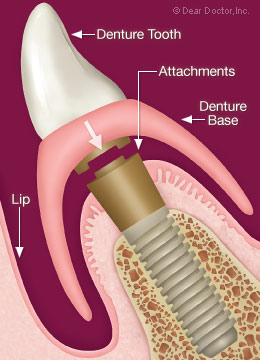 A cross-section illustration showing how the denture attaches to the implants.
Studies over the past decade have continued to demonstrate the enormous benefits of lower jaw overdenture treatment, and it is considered as a first choice standard of care for patients without teeth. Dentists around the country and world prefer this method because the implants will significantly reduce the bone loss process — by about 75 percent less in the areas the implants are placed as compared to the use of dentures without implant treatment.
As a dentist and dental implantologist, I am always looking at what is the best way to preserve bone, and preserving bone structure is a major consideration of modern dentistry. Also, since most of the bone loss occurs within the first year after tooth loss, it is most ideal if implants are placed during the first year after tooth loss rather than waiting until later.
Part of the idea of having secure overdentures is to help people be able to eat. We all know that being able to eat a varied diet, and more fresh and crunchy foods leads to better nutrition. Better nutrition helps you feel better, sleep better and look better. For a young or older person, all of these are important.
I also see that it increases quality of life for individuals who receive dental implants or two-implant over-dentures, more so than for those with non implant secured dentures. No more loose dentures or embarrassing moments in public trying to eat or speak. Patients report an improved self-perception of facial attractiveness. The presence of teeth definitely fills in the cheeks and maintains the height of the mouth between the nose and chin.
You may be asking, am I a candidate for this treatment?

Generally, if a person is healthy enough to undergo a tooth extraction, then they are also a candidate for the two-implant overdenture treatment. The entire surgical phase can often be completed in one visit, although careful assessment and pre-planning are necessary.

Potential candidates include the unsatisfied denture patient suffering from discomfort and lack of retention of their lower denture. Patients with severely decayed or broken teeth that cannot successfully support a removable partial or prosthesis are also good candidates. Research has shown that neither increasing age nor osteoporosis is a barrier to successful healing or integration of implants.

Can this simple treatment be applied to my upper denture?

NOT EXACTLY. Upper implant over-dentures have different needs and requirements for success and predictability when compared to the lower implant over-denture. Based on differences in bone volume, density and other anatomic factors, usually at least four, and in some cases as many as six implants are needed to retain an upper (maxillary) implant over-denture. So, the case selection is different and more difficult for the upper jaw — it is more costly and comparatively more complex.

If you or a loved one are considering an upper implant over-denture, come in for a complementary dental implant consultation.  We are also running a limited time dental implant special. Call 707-795-4523 for more information.

Be Well!
6230 State Farm Drive, Rohnert Park, CA 94928
(707) 795-4523